Bachelor of Engineering (Civil and Infrastructure) (Honours)
Both FT and PT modes are fully-accredited by the Hong Kong Institution of Engineers (HKIE). 100% graduates of 2021 (FT) were employed within 6 months upon graduation.
Key Information
Study Mode
Full Time/Part Time
Duration
FT: 24 months
PT: 36 months
Application Deadline
31 May 2023
No application fee before the deadline!
Programme Content
      
Introduction
This programme maintains an environmental sustainability focus, in line with continuing trends in the global engineering profession. You'll have the opportunity to design creative solutions through inspiring and sustainable design and build projects.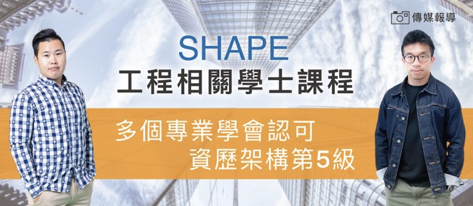 Programme Features
Globally accredited qualification by professional bodies
This programme is fully accredited by the Hong Kong Institution of Engineers (HKIE) and Engineers Australia.  Students are eligible for Engineers Australia membership, with the qualification recognised by all 18 countries that are signatories to the Washington Accord, including include the USA, UK, China, New Zealand, Japan, Korea and Singapore.

Employable graduates
Our graduates are highly sought-after in the industry.  According to the Employment Survey of Graduates of Year 2021 for full-time programmes, 100% graduates were employed within 6 months upon graduation.  Our past graduates have been employed as Assistant Engineer and Supervisors by global engineering consultancies, MTR Corporation Limited, etc.
 
Courses
This programme at SHAPE is equivalent to the 3rd and 4th years of the RMIT Bachelor of Engineering (Civil and Infrastructure) (Honours) degree with an entry point to the programme appropriate for Higher Diploma (or equivalent level) in Civil Engineering graduates.

Each academic year consists of 3 trimesters and the programme is delivered in full-time mode over 6 trimesters and part-time mode over 8 trimesters. There is a total of 192 credit points in the programme. The programme is delivered through a combination of face-to-face intensive workshops, weekly tutorials, laboratory sessions and online components.

The programme structure consists of the following 16 courses, which include 15 core courses and 1 elective:
 
Core Courses:
Analysis of Complex Structures

This course introduces the theories relevant to the analysis of indeterminate structures subjected to transverse and lateral loads by scaffolding the knowledge from structural analysis and statics courses. Topics covered include qualitative analysis of beam and framed structures, application of force method, stiffness method of analysis to beams and frames using slope-deflection method and matrix stiffness methods.

Geotechnical Engineering 2

This course covers a wide range of problems in Civil Engineering. It includes topics such as: foundations for different types of buildings and bridges, excavations, slopes and retaining walls.

Engineering Practice 5 Construction Management

This course introduces you to core concepts, skills and tools for the planning, implementation and management of engineering projects. The learning approach will involve a combination of conceptual framework (theory) and practical exercises using project scenarios.

Concrete Structures 2

This course introduces the concepts of pre-stressed concrete, dealing with traffic loads in analysis of bridge structures and grillage analysis. You will also be introduced to types of suspended slabs and floor systems in common building use and simplified analysis and design methods for flat slab floor systems. The design of a reinforced concrete bridge deck and pre-stressed concrete girders is the major learning activity.  

Stormwater Management

This course covers the two major aspects related to stormwater management in urban areas: mitigating flood risk through reducing peak stormwater flows and designing drainage networks to remove flows; and characterizing and improving stormwater quality by estimating contaminant loads, addressing contaminant transport issues and designing stormwater improvement infrastructure such as retarding basins, online traps and water sensitive urban design features.

Engineering Practice 6 - Sustainable Infrastructure Design

This course is designed to broaden your design knowledge and also to introduce you to think green at an early stage of your career. Lectures will introduce structural timber design and a project will introduce the concepts of civil infrastructure design with a sustainability focus. In the project you will learn to deal with different stages of the life cycle, namely, planning, implementation (engineering and construction), and operation (in-service) phases.

Transport Engineering 2

Transport Engineering 2 introduces you to the complex interaction that occurs between the transport system and other elements of urban development. It also introduces the benefits to be gained by the efficient management of transport resources. You will be exposed to various aspects of the transport system such as planning, design, operations and management. The importance of sustainability in the lifecycle of transport infrastructure will be emphasised.

Catchment Water Management

This course comprehensively examines how climatic and hydrologic data are collected in the field and checked for accuracy and consistency. The focus is predominantly surface-water hydrology in rural design applications. Coverage includes the specification of design rainfall, runoff and routing models, estimations of irrigation water requirement, and its quality specification. Uncertainty and natural variability of hydrologic processes require that most water projects be designed with some degree of risk, using frequency-based design or critical event design. Estimating catchment water yield and flood magnitudes to design reservoirs and hydraulic structures for water conveyance and flood mitigation are considered and the impact of climate change on the sustainability of water supply.

Geotechnical Engineering 3

Building on knowledge and skills developed in "Geotechnical Engineering 2", you will enhance your ability to approach practical problems in Geotechnical Engineering in a competent and professional manner. On successful completion of this course, graduates will be able to make use of theoretical soil mechanics in the solution of some practical problems in the area of pile foundations, retaining walls, ground improvement techniques, seepage through earth structures and other topics as appropriate.

Long span and High-rise Structures (CEF Module)

     (CEF Code: 36Z121559)

This course introduces you to different structural forms, innovative concepts, performance indicators and computer modelling techniques involved in developing these structures. The major component of the learning is project-based and the concepts are introduced and discussed through a number of case studies.

Infrastructure Management (CEF Module)

   (CEF Code: 36Z121540)

The course will provide an overview of the management of infrastructure both at the individual and network level. It will provide background knowledge on the inspection, durability and maintenance of structures. The deterioration mechanisms, methods of inspection, interpretation of the data, repair techniques and lifetime analysis of structures. It will also provide details of asset management for structures and networks of structures, from design through operation to repair and replacement.

Steel Structures 2 (CEF Module)

    (CEF Code: 36Z121567)

This course further develops your structural engineering knowledge and skills and prepares you to work in the real world of engineering. You will learn how to design a multi-story building under the constraints of architectural requirements. This course also covers a range of more advanced topics in the structural use of steel such as: steel/reinforced concrete composite slabs, composite beams, composite columns, shear buckling of web-stiffened plate girders, long span trusses, and plastic analysis of indeterminate beams.

Research Methods for Engineers

This course will provide an overview with applied exercises of best practice in addressing an engineering challenge in a systematic manner, evaluating background literature, adhering to ethics, documentation strategies, and communication in the form of both concise as well as detailed written reports, and oral and written communication of complex engineering concepts to a general audience.

Engineering Capstone Project Part A

This course is the first half of a research and development (R&D) project that comprises two sequential courses (Part A and Part B) and is the capstone for all engineering programmes within RMIT's School of Engineering. In this culminating academic experience you will apply your technical knowledge and further develop your research, design and professional engineering skills. The authentic project maybe industry-based and focuses on producing well-managed practical and pertinent solutions to either discipline specific, or cross disciplinary engineering problems, through robust research and established engineering design processes. 

Engineering Capstone Project Part B

This course includes a work integrated learning experience in which your knowledge and skills will be applied and assessed in a real or simulated workplace context, and where feedback from industry and/or community is integral to your experience
Electives+ (Complete one of the following electives):
Transport Engineering 3

Transport Engineering 3 is a project-based course which aims to enhance your independent investigative skills to source relevant information regarding a complex transport issue or problem. You will use your analytical skills to propose and justify solutions. The course will also provide you with an operational context in preparation for your future working environment.

Rock Mechanics

The aims of this course are to learn about the mechanical behaviour of rock and rock masses, the engineering properties of rock and techniques for the classification of rock masses and analysis of rock structures.

Professional Engineering Experience

This course includes a Work Integrated Learning experience in which your knowledge and skills will be applied and assessed in a real workplace context and where feedback from a supervisor is integral to your experience.

Building Information Modelling

The purpose of this course is to provide the students with the basic understanding and knowledge of the state of the art BIM and advanced technologies such as sensing and tracking (3D laser scanning, photogrammetry, etc.), Virtual Reality (VR), Augmented Reality (AR) and Mixed Reality (MR), Unmanned Arial Vehicle (UAV) and robotics. Upon the acquisition of knowledge, this course also aims to equip students with skills to leverage these technologies to successfully complete projects.
  For part-time mode only. This course has been included in the list of reimbursable courses under Continuing Education Fund. The mother course (Bachelor of Engineering (Civil and Infrastructure) (Honours)) of this module is recognised under the Qualifications Framework (QF Level 5).
+ RMIT may alter the programme, curriculum or regulations at its discretion. Some of the electives may not be offered in a given year depending on factors such as enrollment and scheduling. The sequencing of the above courses may vary from year to year, but the Engineering Capstone Project may not be completed until the student's final trimester.

Assessment
Assignment, laboratory exercise, project work and final examination.
Recognition
Professional Recognition
 

Fully-accredited by Engineers Australia (EA)

 

 

Fully-accredited by the Hong Kong Institution of Engineers (HKIE)
QF Level
QF Level : Level 5
QR Registration No. : 14/003405/L5 
Validity Period : 11/09/2014 - 10/09/2028

 

Importance of choosing a non-local top-up with QF Level 5

Employment

Degree qualifications pitched at QF Level 5 are formally recognised by the HKSAR Government for employment purposes within the Civil Service for graduate posts.


Further Studies

Having been recognised at QF Level 5, this top-up degree programme meets the standard of locally-accredited bachelor's degree programmes.  Upon graduation, students can pursue their further studies at Master's degree level in Hong Kong or Overseas.


Financial Assistance and Scholarships
Entry Requirements
Entry Requirements
Holders of VTC Higher Diplma (HD) in HD in Civil Engineering
OR
Holders of Higher Diploma (HD) or Associate Degree (AD) or equivalent qualification in a relevant subject area  awarded by a recognised institution will also be considered.



English Proficiency Requirements
Successful completion of a 2-year Higher Diploma; OR a 2-year Associate Degree; OR at least the equivalent of a 2-year tertiary programme of at least Australian Qualifications Framework (AQF) Level 5 within the past 5 years where English is the language of instruction and assessment;
OR
At least an overall IELTS score of 6.5 with 6.0 in each component; OR TOEFL Internet Based Test (IBT) Overall score 79 (with minimum score of 13 in Reading, 12 in Listening, 18 in Speaking and 21 in Writing); OR HKDSE score of 4 or more in English Language; OR other equivalent qualifications as listed on the RMIT website.
Fees & Funding
Fees
Application Fee : HK$200 (No application fee before the deadline!)
Registration Fee : HK$3,500
Eligible students for NMTSS only need to pay the tuition fee net of NMTSS. After admission, students with outstanding 
academic performance at sub-degree level will be nominated for OPS and the awardees will receive the scholarship around 
July/August next year. The disbursement of NMTSS and the award of OPS will be subject to the final approval by the Education Bureau (EDB).

Scholarships
A variety of attractive scholarships are available to current and graduating SHAPE students.

Financial Aids 
The following HKSAR Government financial assistance schemes are available to eligible students who pursue this programme at SHAPE:

For details including eligibility and subsidy amount, please refer to the hyperlink of each scheme.
* Please refer to the Programme Content section of this programme for the reimbursable courses under the CEF
Career Prospects/ Further Studies
Career Prospects
Graduates may choose to embark on professional careers as project managers, design engineers and engineering asset managers with consultancies, local government, road authorities, mining companies and construction companies. 
 

 


"Immediately upon my graduation, I became a Graduate Member of The Hong Kong Institution of Engineers (HKIE) and was employed by a globally recognised engineering consulting firm, the WSP (Hong Kong) Limited, as an Assistant Engineer. I'm so thankful for the guidance of SHAPE's academic staff; I gained lots of knowledge and skills essential for my career development."
 

Eric Lo
Bachelor of Engineering (Civil and Infrastructure) (Honours), (Full Time)

Assistant Engineer, WSP (HK) Limited

 

 

 

"All courses of this programme were very practical, particularly the "Geotechnical Engineering" course which was highly related to my current work as a civil Works Supervisor at the MTR Corporation, responsible for the daily quality and safety supervision on site. The knowledge and experience I gained from this programme have helped a lot with my career development."

Ho Yuen Wing
Bachelor of Engineering (Civil and Infrastructure) (Honours)

Works Supervisor, MTR Corporation Limited


Further Studies
Having been recognised at QF Level 5, this top-up degree programme meets the standard of locally-accredited bachelor's degree programmes.  Upon graduation, students can pursue their further studies at Master's degree level in Hong Kong or Overseas.
Student Awards
Student Awards
 
| | |
| --- | --- |
| Student | Award |
| So Nga Ying | EAHK Outstanding Performance Scholarship 2021-22 |
| Chan Tsz Him | EAHK Outstanding Performance Scholarship 2021-22 |
| Ng Sheung Fai | EAHK Outstanding Performance Scholarship 2021-22 |
| Wong Ho Tai | EAHK Outstanding Performance Scholarship 2021-22 |
Connect with Us
Enquiries
| | |
| --- | --- |
| Programme Coordinator | Lydia Law |
| Tel. no. | 2436 8510 |
| Email | lawlydia@vtc.edu.hk |
|   |   |
| General Enquiries | Mr. Joseph Tsang |
| Tel. no. | 2436 8700 |
| Email | |
Connect with SHAPE Community

Connect with RMIT Community
Registration No. : 211755. It is a matter of discretion for individual employers to recognise any qualification to which this course may lead.